Pontus Wernbloom: I love our team!
09.09.2015
Swedish midfielder Pontus Wernbloom talked to pfc-cska.com after signing the new contract with PFC CSKA.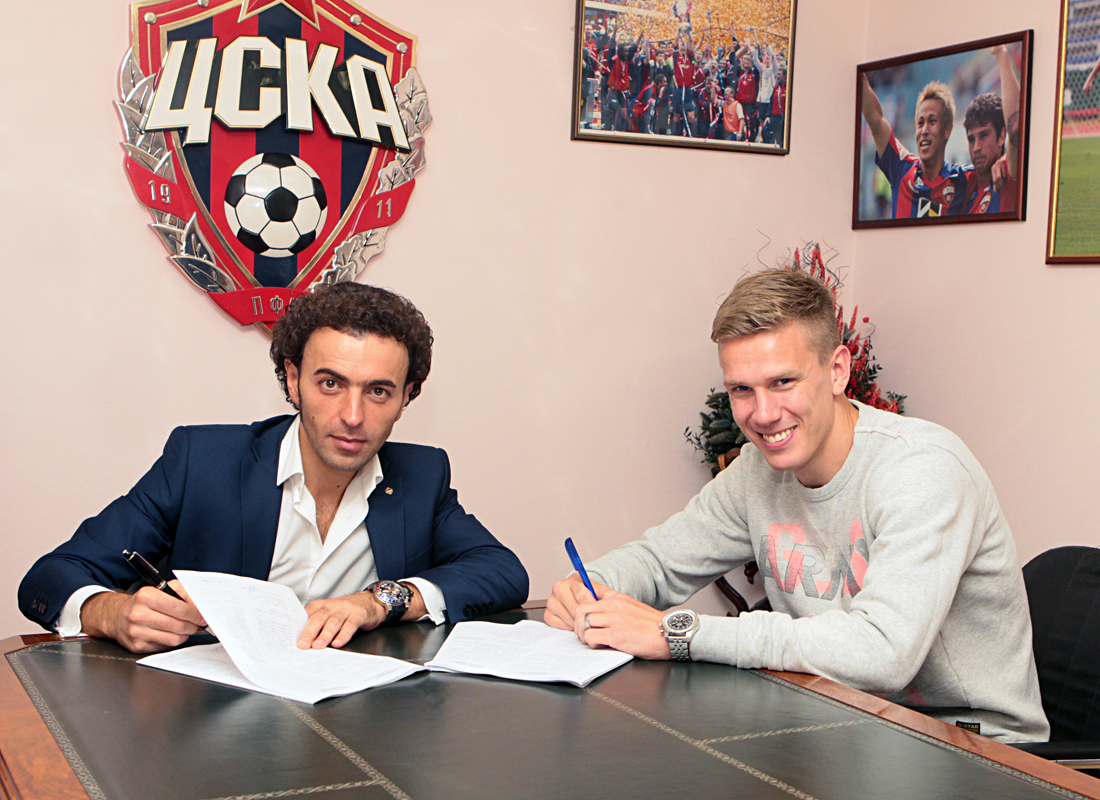 — Of course, I'm very happy! It's something that I always wanted. Since we started talking I wanted to stay here, but there were a few details, that had to be solved. I think that the club has showed a big faith in me, I'm very happy.
— In what way have you changed since your arrival to the club?
— I haven't change that muck. I have to say that I always had slight problems with Moscow. But these problems had never been with the club. The club has always been fantastic since I came here. The team is even more fantastic. I love our team, the boys and the coach. I like to go to the training. I'm happy in this team. I don't think that, if I would change to another team, I would be happier than here. I'm very happy here, in Moscow. I think it's best for me personal to stay here. I'm very happy to be the part of the future successes of the club.
— Is it fair to say that you're feeling a bit more comfortable in the city of Moscow, than in 2012?
— (Laughs) Yeah, I learned a lot! When I came here, I didn't know anything about Moscow. Now I know, for example, at what time I should drive. Of course, things get easier. And it will be even more easier now.
— Was our participation in Champions League a major factor in your decision?
— No. Even if we wouldn't make it to the group stage, the situation would be the same. I still like the team. Of course, you want to play in the Champions League. Though it's not the major factor, I'm happy that we do play in UCL.  
— You're one of the key players of our team. Fans like your style, your fighting spirit. Do you like all this love from our fans?
— Of course. It's always nice to feel appreciate. I've had a huge love for them as well. Hopefully, I can give them some more golden medals in the future together with the team.
— What are you aims?
— To win. I won everything, but I like this taste, I want to win again and again.
— You receive yellow cards very often. You have already 53 of them. The club's record holder is Deividas Semberas with 92 bookings. Do you think you can beat him in the next three years?
— I think so! (Laughs) If you'd ask the coach, he will get angry, but this is my game. We have a lot of offensive players, which lose the ball all the time. Somebody has to do the dirty work in this team, and that's me!
— As one of the team leaders, what can you say to our fans?
— We will always try to go for the golden medals. We won't be happy ending up number two, like last season. CSKA is the club, which wants to win every year. That's what we are aiming for. Cannot make any promises that we will, but we'll always aim for the gold.
Share:
Твитнуть
Поделиться
Плюсануть
Поделиться
Отправить
Класснуть
Запинить