Fan club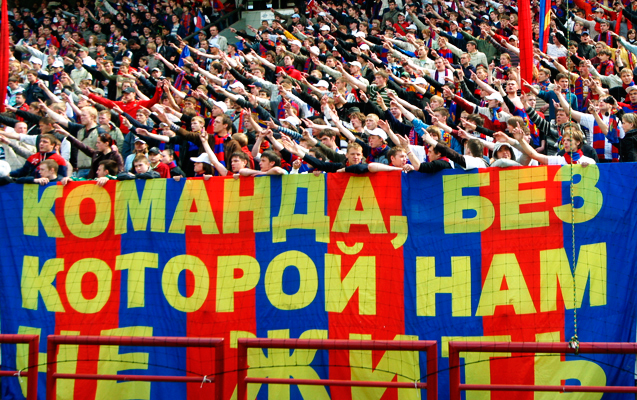 CSKA SUPPORTERS CLUB
In the late 80Тs, many football teams in the USSR began organizing Supporters Clubs. CSKA was one of the first to create its own Supporters Club. This was dictated by the fact, that CSKA is a composite sports organization, combining about 30 different sports, 8 of which are team sports that CSKA represents. In December 1987, CSKA Supporters Club (SC) was founded.
The main purpose of SC is organizing feedback with all professional CSKA clubs and providing help to CSKA fans. SC does not distinguish between different statuses and ranks of fans; we treasure each person who supports CSKA.
Since the day SC was founded, over 17 thousand members have joined the Club, about 2 thousand of them from outside Moscow. They get help in organizing support at away CSKA games, various sport competitions among fans, as well as meetings with CSKA teams. There is an agreement with the football and hockey CSKA management about providing discounts for season tickets and free attendance for mini-football CSKA matches. Despite a limited budget, the SC provides financial help to club members with disabilities of 1st and 2nd group.
In the end of year 2003, with the help of FC CSKA, the structural reorganization of SC has started. Today, one of the main goals of the Supporters Club is organizing bright, colorful and coordinated support at the stands. To accomplish this, many problems must be solved: we need ideas on stand make-up, sound effects, etc. It is essential to establish normal relationship with security officials. Along with FC CSKA management, many questions with the police are being gradually resolved (for instance, starting this season there is always a SC representatives on each section of the stadium stands, who can help in resolving any problems with the police). But we try to go further, and we will do everything possible so the fans feel comfortable while attending games, and so the team would feel their powerful support.
During this season, the Club management plans to exchange SC membership IDs for plastic cards, which will be used in a discount system (we will gladly add your company to this system on various conditions).
We are counting on receiving feedback from you, and we are waiting for your questions, comments, and suggestions.
Club address: 3rd Peschanaya street, 2A
Phone: 8-495-540-38-88
E-mail: fanclub@pfc-cska.com